Profilo Aziendale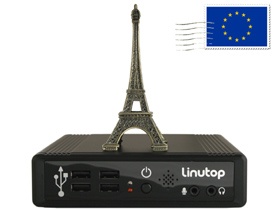 Linutop ha sede in Europa, è specializzata in soluzioni IT a basso consumo, e sviluppa e distribuisci PC robusti e dalle dimensioni contenute, basati su software open source.
L'azienda fornisce soluzioni innovative ed economiche per la visualizzazione di pagine web e contenuti digitali ovunque si trovi l'utente. Il suo prodotto di punta, il piccolo PC Linutop, è in vendita in oltre 48 paesi.
Grazie ai ridottissimi costi di manutenzione e al bassissimo consumo, esso si rivela ideale in ambito ufficio, per la pubblicità nei punti vendita, per l'automazione, i chioschi, la visualizzazione di orari... e per tutte quelle applicazioni di visualizzazione e accesso a dati remoti.
Informazioni sull'Azienda
Linutop SAS
111 Avenue Victor Hugo
75784 Paris cedex 16
France
EU VAT Number:
FR91493023543
Richieste di informazione commerciale
sales@linutop.com
Stampa
press@linutop.com
Condizioni Generali di Vendita
Condizioni Generali di Vendita
General Terms and Conditions of Sale
Cutomers list:
IT Services & Software Engineering:
Bibliotek-Systemer As, CASE Softwaretechnik GmbH, Thales Instruments GmbH, Google Ireland Ltd, CONVAR Deutschland GmbH, Mission Critical Applications Li, Polyconseil
TELECOM:
Belgacom, British Telecom plc, France Telecom R&D,Nokia Corporation, dig it! GmbH, SES ASTRA S.A.
Hotel Business:
Pierre & Vacances, Hotel zur Post - Illmitz, Orphea (Accor)
MUSEUMS / GOVERNMENT:
Conseil Régional Île-de-France,Mairie de Nancy, CRIJ Poitou-Charentes, Dagemo, Ministere de la Defense,les Arts decoratifs.fr
METEO / Media:
Storm Weather Center, Meteomedia AG, Meteo-France, Aquent Inc, Gbg Mediaproduktion AB, Kalmar Mediespecialist
SCHOOLS, Universities, Reseach Centers:
MIT, Georgia Tech, CNRS, INRIA, INRA, Fraunhofer IPA Stuttgart, Universität Rostock, Universität Bamberg, University of Wolverhampton, IUFM de Paris, IUT de Montreuil, Norview High School, Handelshochschule Leipzig, FU Berlin, Fundacao FCUL
Industry:
Bosch Elektronika Kft., Groupe Parisot SAS, MOD-PC Bilbao S.L., Q-matic Sistemas S.A., Quietec SARL, viking test services, Blackwater Resource Development, NANOTECH, ArcelorMittal Rescal
Linutop has been sold in over 50 countries including:
France, Germany, United Kingdom, Italy, Switzerland, United States, Sweden, Spain, Hungary, Finland, Ireland, Netherlands, Portugal, Luxembourg, Denmark, Belgium, Austria, Norway, Australia, New Caledonia, Greece, Canada, United Arab Emirates, Mexico, South Africa, Argentina, Brazil, Slovakia (Slovak Republic), Slovenia, Indonesia