Perfil de empresa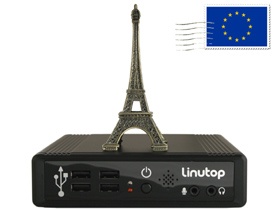 Situados en Europa y especializados en soluciones tecnológicas de bajo consume, Linutop desarrolla y distribuye ordenadores resistentes y de tamaño reducido que cuentan con software libre.
Nuestra empresa proporciona soluciones innovadoras a precios económicos para mostrar, de forma dinámica, páginas Web y contenido digital en cualquier lugar que el usuario necesite. Nuestro principal producto, el miniordenador Linutop, se vende en más de 48 países.
Gracias a su reducido coste de mantenimiento, y a su bajo consumo energético, Linutop es ideal para su uso en entornos empresariales de publicidad, ventas automatizadas, puntos de acceso a internet, muestra de horarios, etc. así como cualquier aplicación que requiera mostrar o acceder a contenidos digitales remotos.
Información de empresa
Linutop SAS
111 Avenue Victor Hugo
75784 Paris cedex 16
France
Número de IVA UE:
FR91493023543
Ventas
sales@linutop.com
Prensa y relaciones públicas
press@linutop.com
Términos generales de contrato y condiciones de venta
Términos generales de contrato y condiciones de venta
General Terms and Conditions of Sale
Cutomers list:
IT Services & Software Engineering:
Bibliotek-Systemer As, CASE Softwaretechnik GmbH, Thales Instruments GmbH, Google Ireland Ltd, CONVAR Deutschland GmbH, Mission Critical Applications Li, Polyconseil
TELECOM:
Belgacom, British Telecom plc, France Telecom R&D,Nokia Corporation, dig it! GmbH, SES ASTRA S.A.
Hotel Business:
Pierre & Vacances, Hotel zur Post - Illmitz, Orphea (Accor)
MUSEUMS / GOVERNMENT:
Conseil Régional Île-de-France,Mairie de Nancy, CRIJ Poitou-Charentes, Dagemo, Ministere de la Defense,les Arts decoratifs.fr
METEO / Media:
Storm Weather Center, Meteomedia AG, Meteo-France, Aquent Inc, Gbg Mediaproduktion AB, Kalmar Mediespecialist
SCHOOLS, Universities, Reseach Centers:
MIT, Georgia Tech, CNRS, INRIA, INRA, Fraunhofer IPA Stuttgart, Universität Rostock, Universität Bamberg, University of Wolverhampton, IUFM de Paris, IUT de Montreuil, Norview High School, Handelshochschule Leipzig, FU Berlin, Fundacao FCUL
Industry:
Bosch Elektronika Kft., Groupe Parisot SAS, MOD-PC Bilbao S.L., Q-matic Sistemas S.A., Quietec SARL, viking test services, Blackwater Resource Development, NANOTECH, ArcelorMittal Rescal
Linutop has been sold in over 50 countries including:
France, Germany, United Kingdom, Italy, Switzerland, United States, Sweden, Spain, Hungary, Finland, Ireland, Netherlands, Portugal, Luxembourg, Denmark, Belgium, Austria, Norway, Australia, New Caledonia, Greece, Canada, United Arab Emirates, Mexico, South Africa, Argentina, Brazil, Slovakia (Slovak Republic), Slovenia, Indonesia