You can easily setup your Web kiosk or Display kiosk through the interface "Linutop Kiosk Setup". Configure Linutop Kiosk to use your mini PC Linutop as :
1.

Web Kiosk: As a professional real terminal, customize the parameters of navigation:


Default URL, archives management, maximum number of simultaneously open windows, and the display time of the time out message, etc.



2.

Digital Signage:

This menu enables the management of the display playlist, including the time and order, and supports photos, URLs, video and music files.
The playlist can be easily composed by dragging and dropping icons.




3.

Web Kiosk / Digital Signage:

Use your Linutop as a public Web kiosk which will turn itself into a digital display screen when nobody use it.


Important: Linutop Kiosk can open automatically at startup.. It will also completely locked your Web Kiosk or Digital SIgnage Player.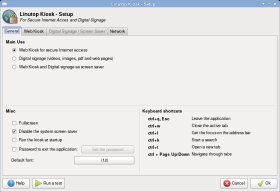 Linutop Kiosk Setup - Selection of the mode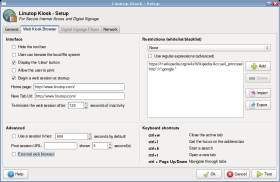 Linutop Kiosk Setup - Internet kiosk setup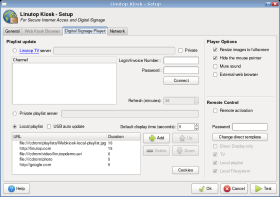 Linutop Kiosk Setup - Digital signage setup