Company profile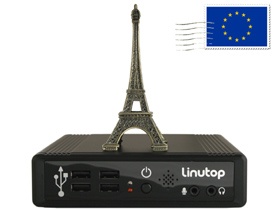 Founded in 2006, established in Europe and specialized in energy efficient IT solutions based on open source software, Linutop develops and distributes small, silent and robust PCs (no fan no mobile part). The company supplies innovative, economic solutions for Internet access, digital signage or network monitoring.

Its leading product, the Linutop small PC, is sold in more than 60 countries used in Hotels, restaurants, banks, displays, shops, museums, waiting rooms and public locations. Thanks to its rockbottom maintenance cost and very low power consumption, it is ideal for use in the business or industrial environment, schools and universities..
Company Info
Linutop SAS
111 Avenue Victor Hugo
75784 Paris cedex 16 France
Tel: +33 970 444 290
SIRET: 493 023 543 00017
TVA EUROPE: FR91493023543
EU VAT Number:
FR91493023543
Sales Inquiries
sales@linutop.com
Press Inquiries
press@linutop.com
General Terms and Conditions of Sale
General Terms and Conditions of Sale
Cutomers list:
IT Services & Software Engineering:
Bibliotek-Systemer As, CASE Softwaretechnik GmbH, Thales Instruments GmbH, Google Ireland Ltd, CONVAR Deutschland GmbH, Mission Critical Applications Li, Polyconseil
TELECOM:
Belgacom, British Telecom plc, France Telecom R&D,Nokia Corporation, dig it! GmbH, SES ASTRA S.A.
Hotel Business:
Pierre & Vacances, Hotel zur Post - Illmitz, Orphea (Accor)
MUSEUMS / GOVERNMENT:
Conseil Régional Île-de-France,Mairie de Nancy, CRIJ Poitou-Charentes, Dagemo, Ministere de la Defense,les Arts decoratifs.fr
METEO / Media:
Storm Weather Center, Meteomedia AG, Meteo-France, Aquent Inc, Gbg Mediaproduktion AB, Kalmar Mediespecialist
SCHOOLS, Universities, Research Centers:
MIT, Georgia Tech, CNRS, INRIA, INRA, Fraunhofer IPA Stuttgart, Universität Rostock, Universität Bamberg, University of Wolverhampton, IUFM de Paris, IUT de Montreuil, Norview High School, Handelshochschule Leipzig, FU Berlin, Fundacao FCUL
Manufacturing:
Bosch Elektronika Kft., Groupe Parisot SAS, MOD-PC Bilbao S.L., Q-matic Sistemas S.A., Quietec SARL, viking test services, Blackwater Resource Development, NANOTECH, ArcelorMittal Rescal
Linutop has been sold in over 50 countries including:
France, Germany, United Kingdom, Italy, Switzerland, United States, Sweden, Spain, Hungary, Finland, Ireland, Netherlands, Portugal, Luxembourg, Denmark, Belgium, Austria, Norway, Australia, New Caledonia, Greece, Canada, United Arab Emirates, Mexico, South Africa, Argentina, Brazil, Slovakia (Slovak Republic), Slovenia, Indonesia