Overview/LinutopSetup
From LinutopWiki
Linutop Setup
The Linutop OS provides a graphical tool to configure the main settings of the system. It is split in 4 tabs:
General settings
Network settings
Advanced settings
Security settings
The Linutop Setup is automatically started during the first boot, and can be restarted from the menu (Settings -> Linutop Setup).
General settings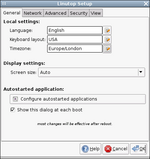 The first tab lets you configure:
the local settings (language, keyboard mapping, timezone)
the screen size
Local settings
To edit the local settings, click on the button on the right of the line to show new dialogs:
Screen size
By default the Linutop will guess how it should configure the screen. If you want to force a screen resolution, that's the place where you can do it. If you need more customization options, see the Xorg page.
Autostarted applications
See the dedicated page about autostarts.
Network tab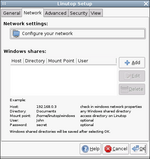 Network settings
In most case you shouldn't have to change the network settings.
This menu can be used to set a fixed IP address, define a WiFi connection, setup advanced network settings (hostname and such).
Windows shares
You can define Windows share than can be used at startup here. All you need to know is available on the interface.
Advanced tab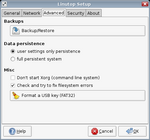 Backup
The first frame lets you start the backup tool.
Data persistence
This setting is used to switch the data persistence mode. If you want to make changes on the system (add applications, update system-wide configuration) you will have to select a full persistent system.
You can learn more about Linutop modes.
Misc
These options allows you to:
not start the X server (advanced users only!)
avoid the filesystem check during startup (not recommended)
clean an USB key. With this tool you will be able to easily restore an USB key on which a Linutop system has been previously installed.
Security tab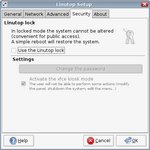 This tab lets you switch the linutop to lock mode.